Relieve Leg Pain & Get Moving!
Revitive® provides a range of FDA-Cleared medical devices designed to boost circulation in the legs and feet to relieve pain. Revitive Circulation Booster® provides patented Electrical Muscle Stimulation (EMS) to promote circulation bringing nutrient rich, oxygenated blood to the legs and feet. Through decades of research, Revitive products are designed to help address symptoms including*:
Poor Circulation
Painful Legs & Feet
Swelling of Foot or Ankles
Muscle Weakness
Leg & Foot Cramps
Tired & Aching Legs & Feet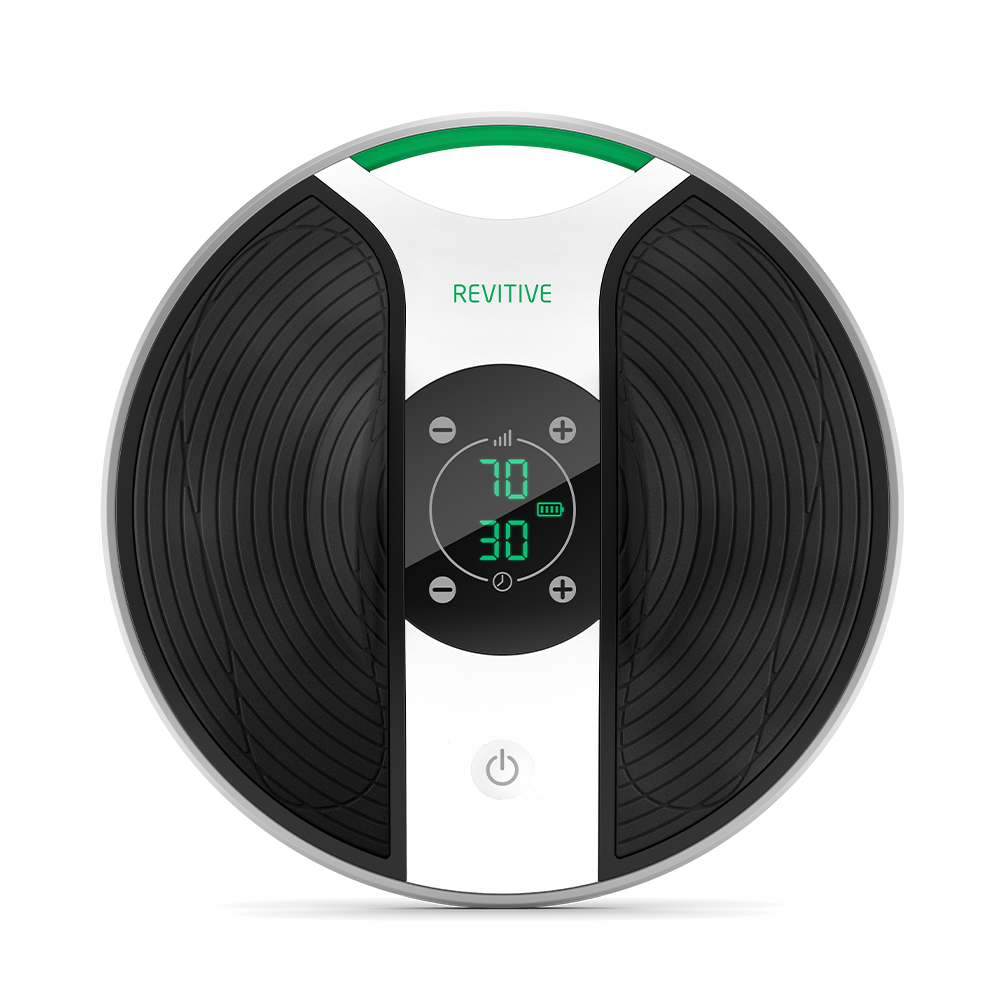 Learn How Revitive Relieves Leg Pain
What Doctors Say About Revitive
Dr. Nadia Din
Podiatrist & physician volunteer Specialties include limb salvage and sports medicine
"Within weeks of giving this to a patient with significant foot pain and swelling, he called my office to thank us, as he noticed improvements to relieve his symptoms."
Now you can't keep me out of my garden! I love this machine because it really helps me walk better and I use it faithfully because I have such poor circulation. Now you can't keep me out of my garden!
Gloria, Chicago IL
Excellent machine that is simple to operate and really does work to eliminate foot-ache and leg cramps. Can't rate this machine highly enough
Lawrence, Mississippi
FDA-Cleared Medical Device
Fight Leg & Foot Pain
The Revitive Circulation Booster range was designed by Physical Therapists and tested by Vascular surgeons. Revitive is clinically proven to boost circulation. Use Revitive daily from just 30 minutes a day helps to relieve leg and foot pain, muscle cramps and leg swelling for users with conditions associated with poor circulation. Its time to tackle the discomfort and pain in your legs caused by poor circulation.
Our promise - feel better in 6-8 weeks
Start your 60 Day Home Trial
After 6-8 weeks of daily use, you will experience significant relief from your aches & pains. Order now and get moving again!
Free Shipping
We always give you free and fast ground shipping to anywhere in the continental US
Sign up and get $30 off your purchase