Revitive Medic is our most popular circulation booster. For persistent or severe aches and pains in your legs, choose the Medic device.
Reduce leg aches & pains
Reduce cramp
Reduce swelling
Actively improve leg circulation
Target and relieve body pain
Also suitable for people with conditions or diseases associated with poor circulation
We always give you free and fast ground shipping to anywhere in the continental US.

Learn More

For peace of mind, we offer a Full 3-Year Protection Plan on all our models worth $50

Learn More
2x MORE Leg Pain Relief
A recent clinical trial found that Revitive combined with supervised exercise reduced pain in people suffering from poor circulation 2x more than exercise alone.
Successful Clinical Trials
FDA-Cleared Medical Device
What is Revitive Medic?
Good circulation is vital for good health, but certain medical conditions (including Diabetes, Osteoarthritis, High Cholesterol or High Blood Pressure), age, smoking and even just being less active can all cause circulation problems. These problems can lead to a wide range of symptoms, such as leg aches & pains, cramp or swollen feet & ankles.
Designed and developed in the UK, NEW Revitive Medic Circulation Booster uses Electrical Muscle Stimulation (EMS) to get leg muscles pumping, which increases the oxygen-rich blood flow - to actively increase circulation and reduce aches & pains. Revitive Medic has also been shown to reduce swollen feet & ankles, reduce cramp. Revitive Medic is also suitable for people with OsteoArthritis.
With its unique Dual-Mode, New Medic uses two proven technologies to maximise effectiveness as part of your complete Pain Management.
Foot Pads
EMS (Electrical Muscle Stimulation) delivered through the Foot Pads, activates muscles in your legs and feet, to increase your circulation and help alleviate aches & pains and walk further.
Body Pads
Electrical Stimulation, delivered through the Body Pads, can be used to provide immediate, temporary relief of pain for your legs, and for other areas of your body.
OxyWave Technology combines a deep understanding of electrical muscle stimulation and circulation. Its patented waveforms significantly increase oxygen-rich blood flow to the legs and feet, relieving aches & pains and is clinically proven to increase circulation during use.
Revitive Medic Technology
Medic Program
With OxyWave Technology at the core, the Medic Program is clinically proven to increase circulation during use.
Maximum IsoRocker
Patented system enables increased ankle joint movement to replicate heel-toe raises as the leg muscles contract and relax.
Dual Mode
Combines EMS & TENS technologies for targeted body pain management.
Cordless
Use almost anywhere. Fully charged it lasts up to 210 minutes - 7x 30min sessions.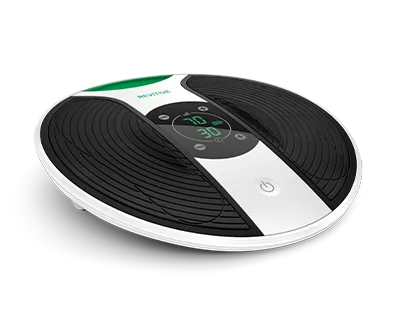 Adjustable Timer
Easily adjusted for longer or shorter therapy sessions
Remote Control
Control at your fingertips for ease-of-use
Soft Touch Pads™
Over-sized soft, silicone foot-pads for superior comfort
How to use Medic in 3 simple steps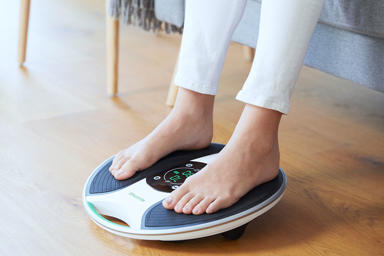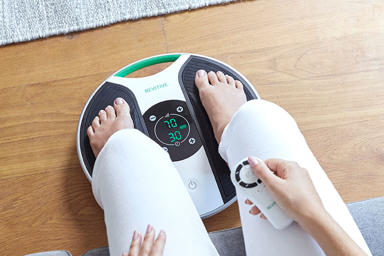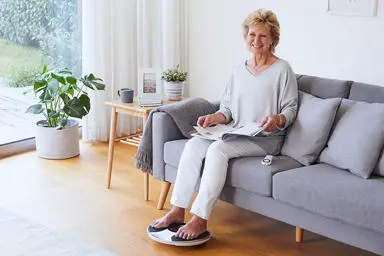 Revitive Circulation Booster should not be used if you have a cardiac pacemaker, implanted defibrillator, or other implanted electronic device (because this may cause electric shock, burns, electrical interference, or death), being treated for, or have the symptoms of, an existing Deep Vein Thrombosis ("DVT") or are pregnant. Always read the label. Use only as directed.
Get over $30 off when you take the quiz