Medic Knee
Relieve Knee Pain from the feet up and the thigh down.
Are your knees slowing you down? Medic Knee gives targeted relief and management of Knee Osteoarthritis. FDA-Cleared to:
Relieve persistent aches & pains, and pain caused by arthritic knees
Increase blood flow
Relieve muscle cramp
Improve muscle strength
$ 359.00
$ 89.75/month - selected as payment option during checkout
What is Revitive Medic Knee?
Weakness of the thigh muscle (or quadriceps) is a very common side-effect experienced by people following knee injuries or people with osteoarthritis of the knee. As any good physical therapist will tell you, the quadriceps play an important protective function to the knee joint, including to aid knee stability and physical function. This is why strengthening the quadriceps muscle is extremely important to overall knee joint health and mobility.
Revitive Medic Knee is a new solution for people suffering from knee pain, including arthritis pain. In addition to the patented foot-pad stimulation that's available on the Medic device, the Medic Knee version comes with two new additional therapy programs:
FDA-Cleared Medical Device
Clinically Proven to Increase Circulation
Medic Foot-Pad Program
Using the same patented program as the Medic model. The patented electrical muscle stimulation from the foot-pads increases the oxygen-rich blood flow in your legs and feet. Use daily for 30 to 60 minutes to relieve aching legs, cramps and to help get you back on your feet again.
Knee Program
With large re-usable Thigh electrode pads and a unique Knee Program, it is specifically designed to strengthen your thigh muscles which may help to support and stabilize the knee. We recommend using the Knee Program and Thigh Pads on the affected leg for 20 minutes, once a day, 5 days a week.
TENS Program
Designed to block chronic pain, and pain associated with arthritis. Using the smaller electrode body pads applied around the knee joint, the TENS Program stimulates sensory nerves that trigger a natural pain relief response. We recommend using the TENS Program for 20-30 minutes per session for immediate pain relief and can be used as and when required.
Patented & FDA Cleared technology
Patented IsoRocker®
As leg muscles contract, the device automatically rocks; further stimulating leg muscles by replicating heel-toe raises.
Patented Wide Pulse Waveforms
Patented electrical muscle stimulation therapy increases the oxygen-rich blood flow in your legs and feet.
Knee Program
Unique muscle strengthening program via extra-large Thigh Pads to help support & stabilize the knee.
Full Body Pain management
A TENS Program stimulates sensory nerves that trigger a natural pain relief response to block chronic pain, including arthritis pain. Apply the body pads almost anywhere - back, shoulder pain - even arthritis pain.
Product Specification
Weight
4.4lbs / 2kg
---
Diameter
14.17 inch / 360mm
---
Depth
2.95 inch / 75mm
---
Intensity Level
0 - 99
---
Time
Adjustable 60+ minutes
---
Run Time
7 days if used two 30 minutes session per day
---
Thigh Pad size
4.92in x 3.94in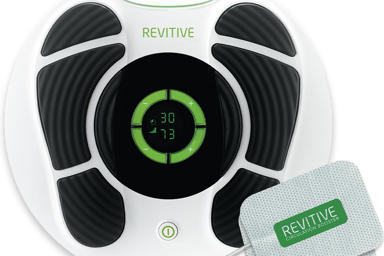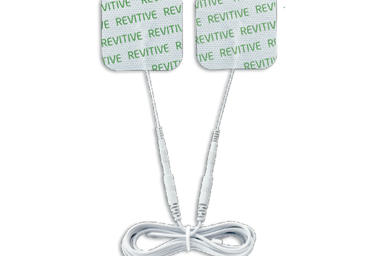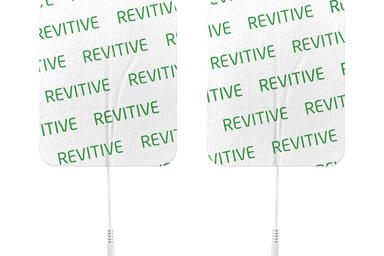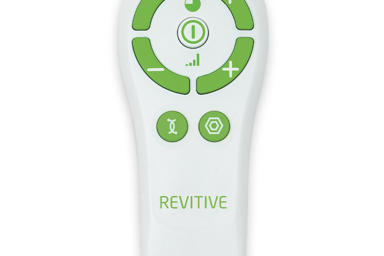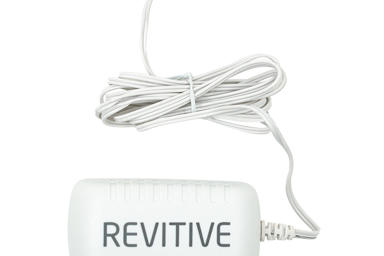 Who cannot use Revitive?
Do not use the body pads on your head, face, neck or chest. There is a chance that serious health problems can occur when using the body pads on your head, face, neck or chest. Use the body pads as directed in the user manual.
Do not apply foot-pads or Body Pads directly on open-wounds or rashes, swollen, red, infected, or inflamed areas of the skin eruptions (such as phlebitis, thrombophlebitis, varicose veins, cellulitis).
Apply stimulation only to normal, intact, healthy skin.

Do not use the Circulation Booster if:
You have a cardiac pacemaker, implanted defibrillator, or other implanted electronic device
You are being treated for, or suspect you have, a Deep Vein Thrombosis (DVT);
You are pregnant.
Safety Precautions
Do not stand on the machine. Use only when sitting down
Use the device only for its intended service
Do not spill liquid on the device or its accessories
Do not use a different power adaptor as this can cause your device to break.
Our promise - feel better in 6-8 weeks
Start your 60 Day Home Trial
After 6-8 weeks of daily use, you will experience significant relief from your aches & pains. Order now and get moving again!
Free Shipping
We always give you free and fast ground shipping to anywhere in the continental US.
Sign up and get $30 off your purchase