Medic Coach
The only at-home leg & knee pain, tailored therapy solution designed to deliver effective pain relief
If you suffer from painful legs & knees, or experience heaviness and swelling in your lower limbs...
You'll know the toll these symptoms can take on your daily life. Activities you used to enjoy – such as going on a daily walk – may seem out of reach. Physiotherapy or rehabilitation classes might help – but are not always easy to access.
83% of surveyed users reported an improvement in leg & foot aches, pain and, cramp after 10 weeks***
Free delivery & extended Christmas returns - orders placed from the 15th of November may be returned up until the 24th of March, free of charge.
Save £ 50.00
|
RRP £ 399.99
£ 349.96
Only £ 291.63 with VAT Relief
£ 87.49/month, choose 4 interest free easy payments at checkout
Shop Christmas Offers
Shop Christmas Offers
Revitive can help
Now there's an easy, drug-free way to relieve uncomfortable symptoms and get your life back.
Revitive Medic Coach is the only at-home leg and knee pain solution designed to deliver effective pain and symptom relief from the comfort of your own home.
Our innovative technology provides guided therapy:
83% of surveyed users reported an improvement in leg & foot aches, pain and cramp after 10 weeks***
Medic Coach designs a solution tailored to your specific needs, the intensity of your symptoms will determine your 10 week therapy plan.
Relieves persistent leg aches & pains
Patented electrical muscle stimulation gets your calf muscles pumping, which improves circulation, increasing oxygenated blood to relieve your achy-feeling legs and feet.
Knee Therapy
Through the use of Thigh Pads, includes three unique knee programs to strengthen the muscles, that help to support and stabilise the knee.
Poor circulation
Indicated to increase walking distance before pain in those with poor circulation
Meet Rosie
She's your new virtual Coach in the Revitive app.
The Coach app is the ultimate tool for getting relief from the symptoms caused by poor circulation and with the latest addition of Rosie, your therapy just got even better.
Rosie will guide you through your tailored leg therapy, help you track your progress, and give you advice along the way to get the best results for you.
Celebrating Our
Medic Coach Community...
Who walked over 3.6 million steps in October. Join in with the Revitive movement and reach your personal goals!
Extended 90-Day Home-Trial
Buy today and your 90-day trial won't start until the 25th of December - giving you until March to try your Revitive.
Do you have a diagnosed medical condition?
Thousands of our users have saved 20% on their Circulation Booster* by purchasing with our VAT relief option - which could save you up to £58!
Simply tick the VAT relief box in your basket.
*VAT relief is available on the Medic, Knee, and Coach devices only.
Discover more on
Medic Coach
Our innovative technology:
Guided Therapy sessions
Realtime feedback for intensity, hydration and rocking minutes through live dashboard, so you can achieve the best session possible
Drug-free
Developed by leading physiotherapists and vascular surgeons, Revitive Circulation Booster is drug-free, easy to use and can deliver results from just 30 minutes a day!
Complete body pain management
Revitive Circulation Booster also comes with TENS body pads, designed to relieve muscle and arthritis pain in other areas, including the back and shoulders†.
Knee Programs
3x Specialist Knee Programs-Vigorous, Standard and Gentle to suit your knee symptoms.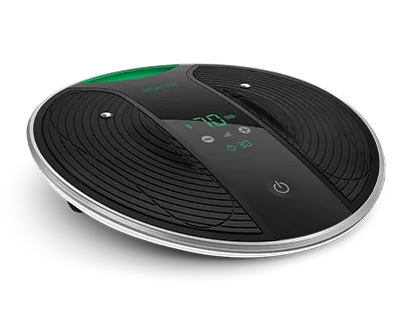 Medic Coach - Simple to get started and use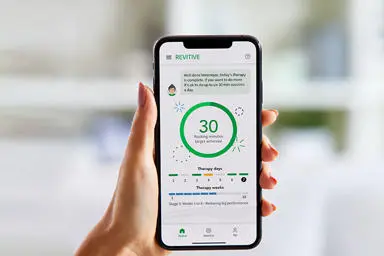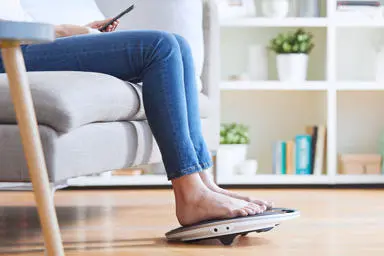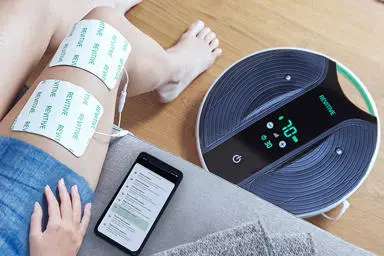 Watch our brand ambassador talk about Revitive
The Circulation Booster that changes lives
Over 3 million people around the world have purchased a Revitive Circulation Booster®, helping to actively boost their circulation and keep them doing the things they love.
Do not use if:
Fitted with an electronic implanted device such as a heart pacemaker or Automatic Implantable Cardioverter Defibrillator (AICD)
Being treated for, or have the symptoms of an existing Deep Vein Thrombosis (DVT)
Pregnant
***96/115 of coach users who reported "cramp in the legs", "painful legs and feet" or "tired and aching legs and feet", when used Revitive for at least 60/70 days with ≥27 rocking active minutes per day. UK Data on file 14.06.2022

†when used alongside pain medication
Save £10 on any Revitive Circulation Booster
Never miss out on exclusive offers, advice & tips to help improve circulation.