Medic Knee
Fight Knee Pain from the feet up and thigh down
Designed for people with OsteoArthritis or knee-joint pain following surgery
New Revitive Medic Knee with its unique Knee Program uses professional-strength OxyWave Technology to stimulate the muscles in your thighs, as well as in your legs & feet which could:
Relieve knee-joint pain & leg stiffness
Strengthen leg muscles which we believe helps support & stabilise the knee
Increase circulation
Reduce swelling in knees, feet & ankles
Allow greater pain-free movement
Alleviate cramp, aches and pains
£ 329.96
£ 274.97 with VAT Relief
or £ 82.49/month with 4 easy payments
90 Day Risk-Free Home Trial
What is New Revitive Medic Knee?
Your knee is the largest joint in the body and also one of the most complicated. In a healthy knee, the ends of your thigh and shin bones are covered with hard cartilage which allow the bones to move easily against each other. Osteoarthritis damages the hard cartilage so that it becomes thin. NEW DualAction Medic Knee combines foot-pad stimulation with Arthritis Pads for thigh stimulation - for targeted relief and superior management of pain, swelling and stiffness, caused by Osteoarthritis of the knee and for use following knee surgery.
How Medic Knee Works
The unique Knee Program allows for strengthening of the quadriceps leg muscles, via the Arthritis Pads. These extra large Pads ensure the correct and easy placement of the pads to strengthen the thigh muscles that we believe helps support the knee - helping reduce stress on the knee and to relieve pain. Used in combination with the foot-pads, NEW Medic Knee is specially designed to relieve & manage the symptoms of Knee Osteoarthritis. Fight knee pain from the feet up and from the thigh down.
OxyWave Technology combines a deep understanding of electrical muscle stimulation and circulation. Its patented waveforms significantly increase oxygen-rich blood flow to the legs and feet, relieving aches & pains for greater pain-free walking and is clinically proven to increase circulation during use.
Medic Knee Features
Knee Program
Unique Muscle Strengthening Program which we believe helps support & stabilise the knee, delivered via extra large Thigh Pads.
Maximum IsoRocker
Patented system enables increased ankle joint movement to replicate heel-toe raises as the leg muscles contract and relax.
Pain Management
Stimulation via reusable electrode body pads provides maximum relief from joint, muscular or arthritic knee pain.
Medic Program
Clinically proven therapy designed for persistent leg problems.
Adjustable Timer
Easily adjusted for longer or shorter therapy sessions
Remote Control
Control at your fingertips for ease of use
Cordless
Use almost anywhere. Fully charged lasts up to 210 minutes - 7x 30min sessions
How to use New Medic Knee in 3 simple steps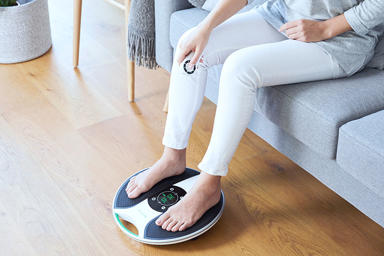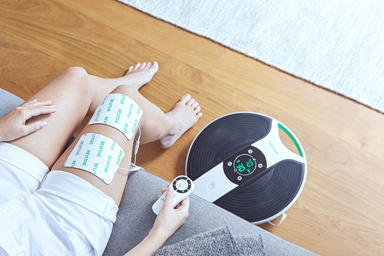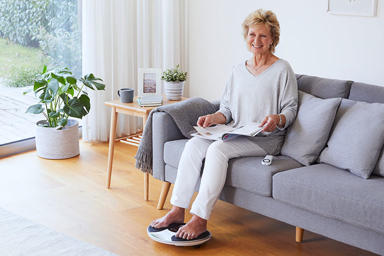 Who cannot use Revitive?
Do not use if:
Fitted with an electronic implanted device such as a heart pacemaker or Automatic Implantable Cardioverter Defibrillator (AICD)
Being treated for, or have the symptoms of an existing Deep Vein Thrombosis (DVT)
Pregnant
Free Extended Warranty
Buy directly from us and receive a FREE 3-Year Extended Warranty on all new Revitive Circulation Boosters.
Free Delivery
Free Standard delivery on all orders over £50.
90 Day Home-Trial
Due to the current situation, we are extending our risk-free trial from 60 to our 90 Day Home-Trial.
VAT Relief
If you suffer from a long-term health condition you may be able to claim back VAT on Revitive. Not available on 4-easy payments.
We would love to keep in touch
Sign up for our emails and we'll keep you updated with our regular offers.