Medic Knee
Relieve knee pain as well as fighting tired, achy-feeling legs and reducing swollen feet & ankles during use - Drug-Free Relief from Persistent Knee & Leg Problems
Knee pain can stop you from doing the things you love the most. Don't let knee pain slow you down. Revitive Medic Knee is your ally to tackle knee pain and achy-feeling legs.
New Revitive Medic Knee with its unique Knee Program uses professional-strength OxyWave technology to stimulate the muscles in your thighs, as well as in your legs & feet.
Designed for people with OsteoArthritis or knee-joint pain following surgery.
Revitive Medic Knee is indicated to:
Reduce knee pain and discomfort
Strengthen thigh muscles that help support and stabilize the knee
Reduce swelling in the legs, feet and ankles during use
Alleviate tired, aching & heavy legs
Save £ 50.00
|
RRP £ 379.96
£ 329.96
Only £ 274.97 with VAT Relief
£ 82.49/month, choose 4 interest free easy payments at checkout
Relieving knee pain
Your knee is the largest joint in the body and also one of the most complicated. In a healthy knee, the ends of your thigh and shin bones are covered with hard cartilage which allows the bones to move easily against each other. Osteoarthritis damages the hard cartilage so that it becomes thin.
The DualAction of the NEW Medic Knee provides foot-pad EMS stimulation with Arthritis Pads to strengthen the muscle in the thigh which help support the knee as well as TENs stimulation, delivered through the body pads, that can be used to provide immediate, temporary relief of pain for your knees, and other areas of your body.
See Medic Knee in action
The unique Knee Program allows for strengthening of the quadriceps leg muscles, via the Arthritis Pads. These extra-large Pads ensure the correct and easy placement of the pads to strengthen the thigh muscles that help support the knee - which may help reduce stress on the knee.
With over a decade of development with world-renowned clinical experts, Revitive has drawn on its deep understanding of Electrical Muscle Stimulation (EMS) and circulation to develop this unique, ground-breaking muscle stimulation waveform technology. It significantly increases oxygen-rich blood flow to the legs and feet, relieving achy-feeling legs and swollen feet and ankles during use. .
Key Features
Knee Program
Unique Knee Program to Strengthen the muscles in the thigh that supports & stabilise the knee, delivered via extra-large Thigh Pads.
Maximum IsoRocker
Patented system enables increased ankle joint movement to replicate heel-toe raises as the leg muscles contract and relax.
Pain Management
Stimulation via reusable electrode body pads provides maximum relief from joint, muscular or arthritic knee pain, when used in addition to traditional pain medication.
Medic Program
Clinically proven therapy designed for persistent leg problems.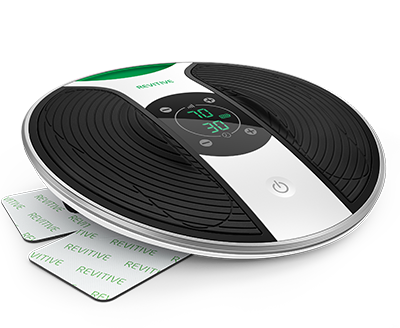 Adjustable Timer
Easily adjusted for longer or shorter therapy sessions
Remote Control
Control at your fingertips for ease of use
Cordless
Use almost anywhere. Fully charged lasts up to 210 minutes - 7x 30min sessions
*Do not use Revitive, using EMS stimulation, for more than 6 sessions of 30 minutes (or the equivalent) per day.
How to use New Medic Knee in 3 simple steps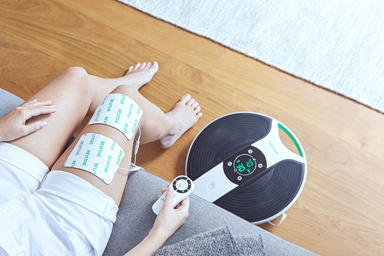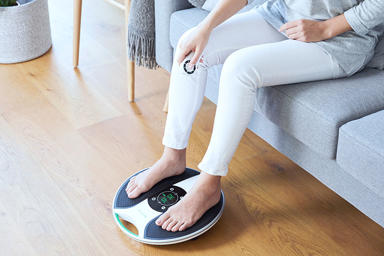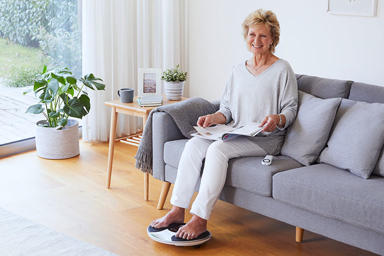 I started to use it everyday for half an hour, mostly in the evening when I was watching television and I felt, after a few weeks, that my feet were getting better, thanks to Revitive.
David**
Medic Knee & User's Manual
Remote Control & AAA batteries x2
Who cannot use Revitive?
Do not use if:
Fitted with an electronic implanted device such as a heart pacemaker or Automatic Implantable Cardioverter Defibrillator (AICD)
Being treated for, or have the symptoms of an existing Deep Vein Thrombosis (DVT)
Pregnant
Save £10 on your first order
Never miss out on exclusive offers, advice & tips to help improve circulation