ProHealth
Effective, drug-free relief for tired, aching legs and feet
Revitive ProHealth is Clinically proven to increase circulation during use. This Circulation Booster® gets your lower leg muscles pumping and may:
• Reduces occasional swelling
• Helps maintain leg vein health
• Actively improves leg circulation
* in healthy people
£ 199.96
or £ 49.99/month with 4 easy payments
Key Benefits
Drug-Free Revitive ProHealth Circulation Booster is specially designed to be effective and very easy to use.
How Does it work?
Revitive ProHealth is a drug-free registered medical device that uses professional-strength OxyWave Technology to stimulate the muscles in your legs and feet so that they contract and relax to actively improve circulation during use, so you can do more of the things you love.
Revitive ProHealth features our unique OxyWave Technology. Over a decade of development with world-renowned clinical experts has resulted in a deep understanding of Electrical Muscle Stimulation and circulation. Using OxyWave Technology, Revitive pumps muscles in the legs & feet to increase oxygen-rich blood flow which could relieve tired, aching legs and feet and is clinically proven to actively increase circulation during use.
Unique Features
1-99 Intensity Levels
OxyWave® EMS Technology delivers targeted relief to the legs & feet. 1–99 levels - to find your right level.
IsoRocker
This rocking action allows movement of the ankle joint, without placing undue pressure on legs and feet.
SoftTouch Pads™
Soft silicone foot-pads with raised in-step for superior comfort & the most effective muscle stimulation.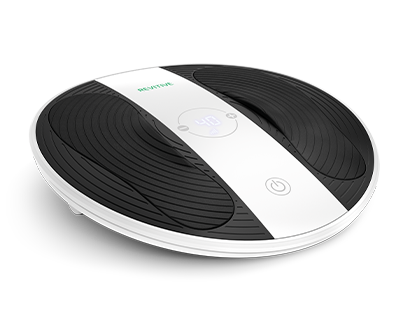 Revitive reviews
Over a million people around the world have purchased a Revitive Circulation Booster, helping them to keep doing the things they love.
Revitive works really well for me, I couldn't do without it. I was so pleased with it that I gave it a score of 9 out of 10 a year ago. But a year later, I would give it 10.
Jaqui Bell, Dorset**
The benefits are just there to see and experience, and we're very, very happy with the way the Revitive Circulation Booster works for us.
Len, Bognor Regis**
Who cannot use Revitive Circulation Booster?
Revitive Circulation Booster (all models) should not be used by people who are:
Fitted with an electronic implant such as a pacemaker or AICD
Being being treated for, or have the symptoms of, a deep vein thrombosis (DVT)
Pregnant
Free Extended Warranty
Buy directly from us and receive a FREE 3-Year Extended Warranty on all new Revitive Circulation Boosters.
Free Delivery
Free Standard delivery on all orders over £50.
90 Day Home-Trial
Due to the current situation, we are extending our risk-free trial from 60 to our 90 Day Home-Trial.
We would love to keep in touch
Sign up for our emails and we'll keep you updated with our regular offers.