Advanced
Do you suffer from tired legs and feet?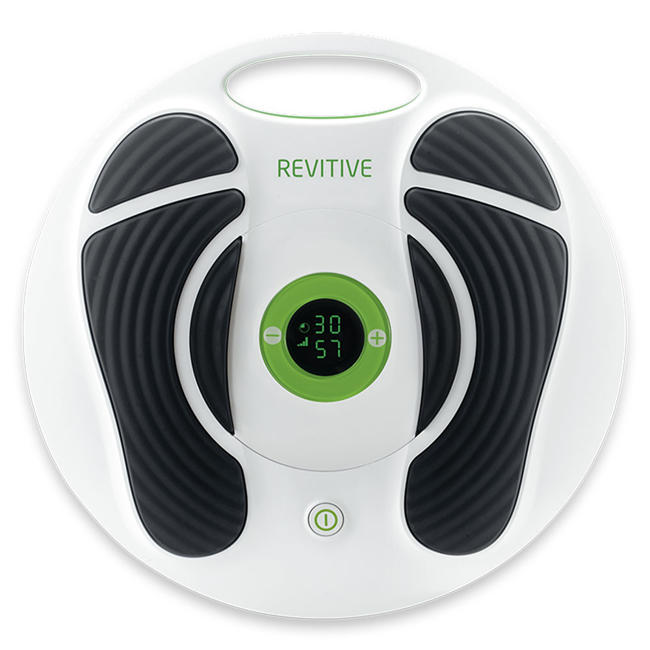 Revitive Advanced uses clinically-proven Electrical Muscle Stimulation. This Circulation Booster® gets your lower leg muscles pumping and may:
Relieve tired, heavy-feeling legs & feet
Actively increases circulation*
* in healthy people
Drug-Free Revitive Advanced Circulation Booster is specially designed to be effective and very easy to use.
How Does it work?
The patented Wide-Pulse Waveforms in Revitive Advanced stimulate the nerve endings in your feet to get your leg muscles pumping to actively increase circulation.
Tired legs & feet
Heavy-feeling legs
Swollen/puffy feet & ankles
1-99 Intensity Levels
Uses two proven Electrical Stimulation technologies to maximise effectiveness and for Complete Pain Management.
Standard IsoRocker
This rocking action allows movement of the ankle joint, without placing undue pressure on legs and feet.
15 Stimulation Waveforms
Our latest breakthrough in circulation technology which results in a more comfortable stimulation.
Revitive Advanced reviews
Over a million people around the world have purchased a Revitive Circulation Booster, helping them to keep doing the things they love.
Revitive works really well for me, I couldn't do without it. I was so pleased with it that I gave it a score of 9 out of 10 a year ago. But a year later, I would give it 10.
Jaqui Bell, Dorset**
The benefits are just there to see and experience, and we're very, very happy with the way the Revitive Circulation Booster works for us.
Len, Bognor Regis**
Who cannot use Revitive Circulation Booster?
Revitive Circulation Booster (all models) should not be used by people who are:
Fitted with an electronic implant such as a pacemaker or AICD
Being being treated for, or have the symptoms of, a deep vein thrombosis (DVT)
Pregnant
Save £10 on any Revitive Circulation Booster
Never miss out on exclusive offers, advice & tips to help improve circulation.