Revitive Medic
Our latest model, offers Dual Action, with patented waveforms and two types of stimulation, Revitive Medic is our best-selling and most effective Circulation Booster.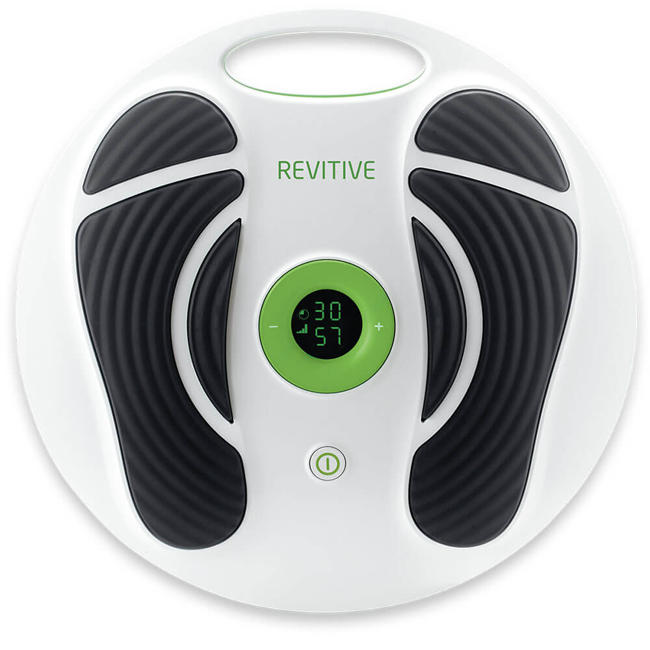 Revitive Medic is our top of the range Circulation Booster, it is suitable for everyone with poor circulation and also for those with certain medical conditions, including OsteoArthritis or Diabetes.
Revitive Medic may help:
Reduce pain in legs and feet
Reduce swollen feet and ankles
Alleviate tired, aching legs & feet
Actively improve circulation
Save $ 50.00
|
RRP $ 349.99
Revitive Medic - the Key Benefits
Designed and developed in the UK, Revitive Medic Circulation Booster gets leg muscles pumping to actively increase circulation, reduce aches & pains and reduce swollen feet & ankles. Many people don't realise that certain medical conditions, like Diabetes, can impact their circulation.
Revitive Medic is suitable for people with Poor Circulation, as well as for those with certain medical conditions, including Diabetes or OsteoArthritis. Patented Wide-Pulse Waveforms in Revitive Medic stimulate the nerve endings in your feet to get your leg muscles pumping, boosting your circulation.
1-99 Intensity Levels
With 99 intensity levels Revitive Medic can be adapted to meet the widest range of circulation needs. This range of intensity levels makes Revitive Medic suitable for everyone, including those with with poor circulation.
Patented IsoRocker
The IsoRocker gently allows ankle joint movement, replicating heel-toe raises as the leg muscles contract and relax. This rocking action allows movement of the ankle joint, without placing undue pressure on legs and feet.
Patented Waveforms
Our latest breakthrough in circulation technology which results in a more comfortable stimulation.
What Revitive Medic users say
Over 2 million people around the world have purchased a Revitive Circulation Booster, helping to actively boost their circulation and help them to keep doing the things they love.
Easy to use - I had results within the first 2 weeks. My circulation and mobility improved. No more pins and needles and I can go up and down stairs with ease. I would and have definitely recommended this product.
Annette, Montreal
90 risk-free home trial
Purchase here and if you're not satisfied we'll give you your money back minus collection cost.
Clinically Proven
We continue to undertake clinical trials, to show Revitive's effectiveness in people with a range of medical conditions
Drug-Free Medical Device
Revitive is a medical device which uses clinically-proven Electrical Muscle Stimulation (EMS) to actively improve the circulation in your legs and feet.
Full Customer Support
If you need help with your Revitive Circulation Booster you can call 1-800-732-6962, Mon-Fri 9:00am-5:30pm Eastern with any questions you have.
Sign up to our mailing list
For free hints, tips & special offers, sign up using your email address