Open-Box & Refurbished
For a limited time, take advantage of our discounted open-box units. Hurry while supplies last!
You will receive a "like new" device that has been thoroughly tested and cleaned. The device will come with all accessories, power cords, and genuine parts. All Revitive Certified Refurbished products are packaged in a brand new gift box and will be sent to you with free shipping.
Find the right Circulation Booster
Advanced Open-Box
Revitive Advanced Circulation Booster - Standard IsoRocker 15˚ tilt - Corded - 1 Year Warranty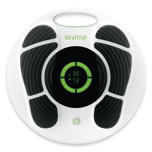 Revitive Medic Open-Box
Revitive Medic Circulation Booster - Maximum IsoRocker 20˚ tilt - Cordless Freedom - 1 Year Warranty
Join our mailing list
Sign up to our emails for exclusive offers and more.