Ultrasound at-home Physiotherapy
Muscle pains, sprains & strains getting in your way?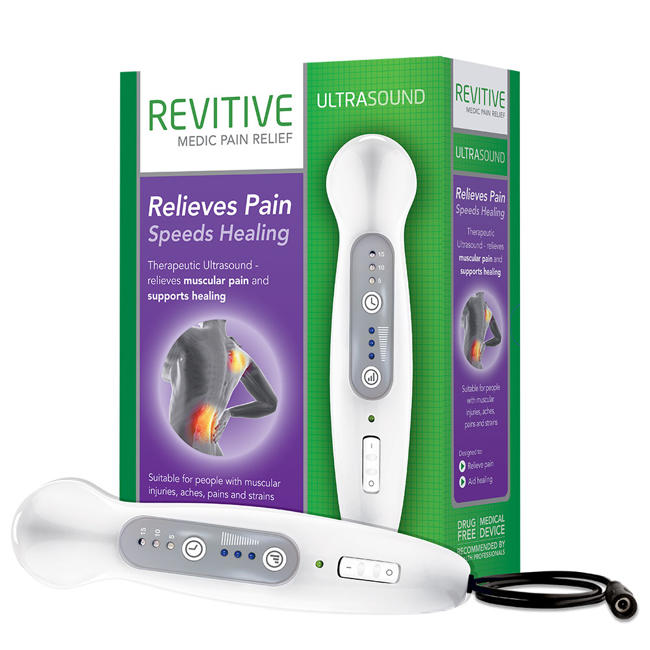 Revitive Ultrasound is an easy-to-use drug-free, registered medical device designed to effectively support the repair of sprains and strains by treating them at the source.
Using therapeutic ultrasound therapy that has been around for over 50 years and widely used by many healthcare professionals from physiotherapists to osteopaths, chiropractors and sports therapists, Revitive Ultrasound helps to:
-Relieve muscle pain or pain from Osteoarthritis
-Stimulate the skin's tissue cells, using high-frequency therapeutic sounds vibrations
-Speed up the healing process by aiding in the transport of essential ions and nutrients to the cells in order to repair the body and relieve pain at the source
Please note Revitive Ultrasound does not qualify for a 90 day trial and is covered by our standard 14 days unopened & unused policy.
Save £ 35.00
|
RRP £ 149.99
Only £ 114.94
£ 28.74/month, choose 4 interest free easy payments at checkout
Revitive Ultrasound can help to:
Stimulate skin tissue cells

Speed up the healing process

Stimulate skin tissue cells
Stimulate skin tissue cells

Speed up the healing process

Stimulate skin tissue cells
Revitive works with your body, getting your calf muscles pumping to help relieve achy-feeling legs without the need for medications.
Pain Relief and Muscle Repair
The ability to move with freedom is vital to our everyday lives. Muscle aches & pains - from overusing a muscle, from exercise or sport or from simple everyday things like gardening or playing with the kids or grandkids - can get in the way of this.
Revitive Ultrasound uses ultrasound technology which could relieve aches and pains, and promote healing of a wide range of injuries:
Muscle aches, strains & sprains
Sports injuries
Tendon & ligament injury
Tendonitis
Bursitis
Revitive Ultrasound is a hand-held device that emits high-frequency sound waves. These waves increase blood flow to the affected areas so that injured or damaged tissue receives more oxygenated blood, essential ions and nutrients.
Result: This helps relieve pain and promote tissue repair.
How to use Revitive Ultrasound
Revitive Ultrasound therapy has 3 intensity levels that allow you to adjust the treatment to your needs. The correct intensity is determined by the depth of your injury and how long you've been experiencing pain. 1-2 applications for just a few minutes per day. The clear Application Chart shows you exactly the time and intensity for using Revitive Ultrasound Therapy.
1

Apply Revitive Ultrasound Gel generously to treatment area

2

Select the time and mode to personalise treatment

3

Move in a circular motion over the skin's surface

1

Apply Revitive Ultrasound Gel generously to treatment area

2

Select the time and mode to personalise treatment
1

Apply Revitive Ultrasound Gel generously to treatment area

2

Select the time and mode to personalise treatment

3

Move in a circular motion over the skin's surface

1

Apply Revitive Ultrasound Gel generously to treatment area

2

Select the time and mode to personalise treatment
Save £10 on any Revitive Circulation Booster
Never miss out on exclusive offers, advice & tips to help improve circulation