Pain Reliever
Pain in your back or shoulders?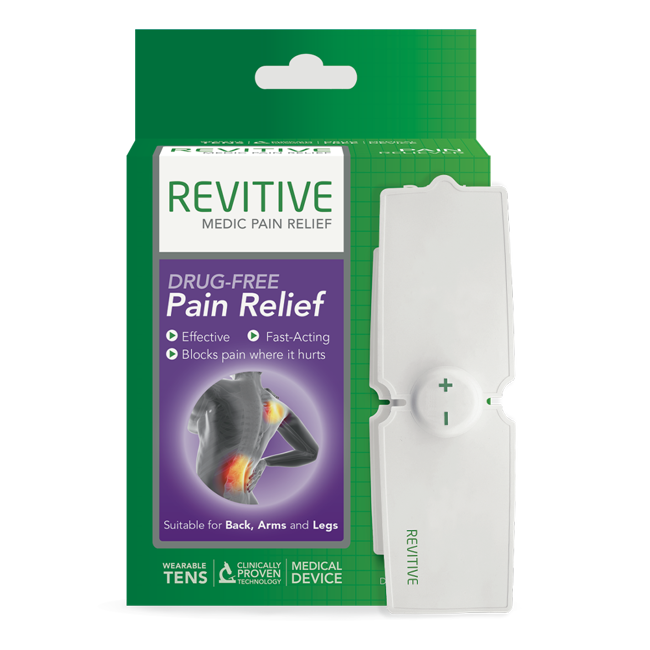 Revitive Pain Reliever provides on-the-go pain relief suitable for use on Back, Shoulders, Arms and Legs
Blocks pain where it hurts
Drug-free
Fast acting
Effective
Revitive Pain Reliever blocks pain where it hurts
Pain Reliever benefits
Wearable
Use anywhere, anytime for on-the-go relief. No cords, no charger.
TENS
Technology widely used by healthcare professionals for the relief of pain.
Larger size
Its extra width and length (25cm x 7cm) ensures maximum relief and can also be applied to the lower back or shoulder area.
Drug-free
Using TENS technology Revitive Pain Reliever is drug-free - so it's suitable for regular usage, without risk of side-effects.
Discreet
Thin slender design makes it virtually unnoticeable, it's silent and does not vibrate.
Fast-acting
Provides immediate relief so you can get back to doing the things you love.
How Revitive Pain Reliever works
Revitive Pain Reliever uses Transcutaneous Electrical Nerve Stimulation (TENS). TENS blocks the pain signal and stimulates the release of endorphins (the body's natural pain killer) - providing immediate pain relief. Revitive Pain Reliever provides cordless, on-the-go pain relief, throughout the day, wherever you are.
Simple to Use
Controlled manually, just switch on and turn it up to a level that suits you - no complicated wires, dials or displays.
With 15 intensity levels you can adjust the pain relief to match your level of pain.
We would love to keep in touch
Sign up for our emails and we'll keep you updated with our regular offers.