Revitive Osteoarthritis-Knee
Fight knee pain
Revitive Osteoarthritis-Knee may help:
Reduce knee pain from osteoarthritis
Reduce swollen knees from osteoarthritis
Strengthen leg muscles in people with knee osteoarthritis and post knee surgery
Relieve aches & pains post knee surgery
Actively improve leg circulation
Only $ 399.00
$ 99.75/fortnight with Afterpay
Consult with your health care professional before use. Do not use if fitted with an electronic implanted device such as a heart pacemaker or Automatic Implantable Cardioverter Defibrillator (AICD), you are pregnant, being treated for, or have symptoms of Deep Vein Thrombosis (DVT): such as pain, swelling and tenderness, heavy ache, warm or red skin in the leg. Always read the label. Use only as directed. If symptoms persist, see your doctor
Revitive Osteoarthritis-Knee - Unique Features
Revitive Osteoarthritis-Knee - With new technology specifically designed to help the symptoms associated with osteoarthritis of the knee
Arthritis Mode
Unique Arthritis Programme allows for essential strengthening of the quadriceps leg muscles, via the Thigh Pads
Revitive Thigh Pads
Large Thigh Pads for correct and easy placement ensuring all required muscles are activated. This helps to strengthen thigh muscles that support the knee, which may reduce aches, pains and swelling associated with knee osteoarthritis.
99 Intensity Levels
99 Intensity Levels provide professional-strength electrical stimulation.
Advanced IsoRocker System
The Advanced IsoRocker allows a greater range of ankle joint movement.
Cordless Freedom
Rechargeable with Lithium-Ion batteries.
Remote Control
For ease of use. Revitive Osteoarthritis-Knee can also be operated manually.
How to use Revitive Osteoarthritis-Knee in 3 simple steps
For best results, the Revitive Osteoarthritis-Knee foot-pads are recommended to be used for 20-30 minutes each day. It can be used up to 6 times a day ie. a maximum of 3 hours per day.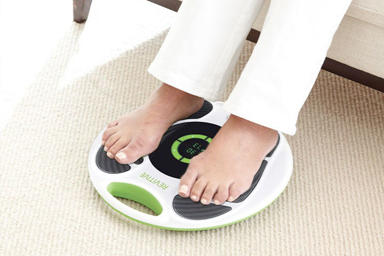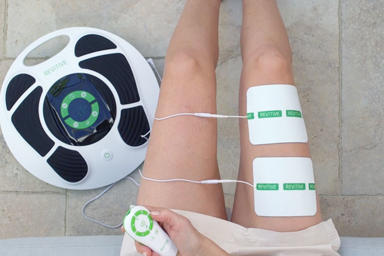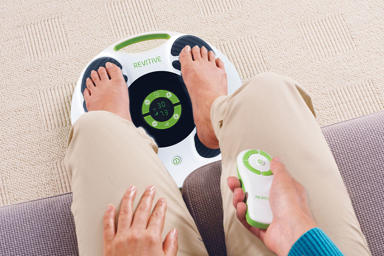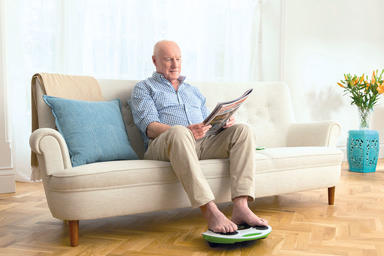 The foot-pads will not produce a stimulation if the Thigh Pads are plugged in.
Useful information for Thigh Pads: Revitive Thigh Pads are recommended for use 20 minutes, each session, 5 days a week. During the therapy session, there will be 10 seconds of stimulation, followed by a 50-second rest period, when no stimulation is felt. This repeats until the end of the therapy.
See how Revitive has changed lives
What Revitive users say
Revitive has helped people with knee pain to live more active lives. Read these life-changing stories here.
After my knee injury, I had to go for an arthroscopy (knee surgery). I started on the Revitive and it helped with the blood circulation, I could move around. It was just awesome!
Stacey McGavin
I have found this product to be useful in treating my arthritis and lower limb circulation problems.
Muriel, Rockhampton
Gives really good relief from joint and leg pains and certainly does what is promoted by Revitive."
Basil, Mourilyan
This is a great product, I can walk better now and feel less pain in my leg."
Helen, Southern Cross WA
Free Extended Warranty
Buy direct and receive FREE 3-Year Extended Warranty on all new Revitive Circulation Boosters.
Free National Delivery
Free Delivery on all orders, including Revitive accessories.
60-Day Money Back Trial
If within 60 days of purchase you are not satisfied with your new Revitive Circulation Booster, contact our Customer Service Team for your refund, less $29.95 postage & handling. See Terms and Conditions.
Same-Day Despatch
Orders received by 1pm (AEST) business days will be sent the very same day via Australia Post. Delivery will follow Australia Posts standard delivery timeframes.
Sign up to our emails for exclusive offers and more.